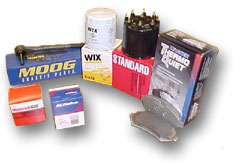 Whether you are a "backyard mechanic" or a professional mechanic, we know your time is valuable. That is why we make every effort to have the parts you need on the shelf when you need them. We receive daily delivery from our suppliers, which means we're almost never out of a stocked part. If, however, we are out of a stocked part or don't stock the part you need, we can usually have it within a couple of hours.

For the mechanic or car owner who wants the best parts on the market, Bob's Speed & Auto Parts carries the brands known for their reliability and superior quality. Aftermarket brand names like Monroe, Wix, Standard Ignition, Dayco, Moog, Wagner and Walker can be found on our shelves alongside OE brands like AC-Delco and Motorcraft. We also carry brands like Auto Extra brake pads and Premium Guard filters which are less expensive than the brand names.
We offer machine shop services such as turning drums, rotors and flywheels, and we also do press work. The machine shop is open until one hour before closing time.
For a complete listing of brands stocked at Bob's Speed & Auto Parts, click on our line card page.